Tuesday 21st November 2017 – Event (at the Woodlands Centre)
Following the lecture;
FESTIVE DRINKS AND MINCE PIES
---
Thursday 8th March 2018 – Event (at the Woodlands Centre)
DAY OF SPECIAL INTEREST – FAKES AND FORGERIES IN SILVER
Forgeries in silver are rare, but always some have tried to cheat the system. The illustrated talks will examine what the law-breakers have been up to and we will look at how illegalities are dealt with. Bring your silver and plate to be identified and discussed.
Speaker: Ian Pickford (from the BBC Antiques Roadshow)
---
Friday 20th April 2018 – Event
GOLDEN ANNIVERSARY LUNCH AT EPSOM RACECOURSE
A special lunch to mark the 50th Anniversary of The Arts Society (previously NADFAS).
---
Monday 14th May 2018 – Visit
VISIT TO CHAMPS HILL FOR THE 'EUROPEAN TOUR' EXHIBITION
We have booked places for members to visit an Exhibition entitled "European Tour" at Champs Hill. The paintings are a selection from the 19th and 20th centuries and include artists from Italy, Spain, France, The Netherlands and Belgium. We are invited to view the Exhibition as well as a look around the gardens and sculptures.
This is a self-drive visit and the cost per member is £10, which includes tea and coffee. Meet in the car park at 09:45am for 10am entry.
Address: Champs Hill, Waltham Park Road, Coldwaltham, Pulborough, West Sussex, RH20 1LY – click here for map & directions
VISIT REPORT
We couldn't have chosen a better day to visit Champs Hill the beautiful home of David and Mary Bowerman in Coldwaltham which sits high enough to enjoy dramatic views over Amberley Wild Brooks and the South Downs. We were there to see a selection of paintings from over 20 artists chosen by David to represent a 'European Tour' of artists from the 1700's to today. On arrival we sat down to tea and biscuits while Mary Bowerman gave us an introduction and history of the site and the art collection. There was Lucien Pissarro who moved from France to the UK and was one of the founder members of the Camden Town Group of painters, Eric De Vree and Willem Dolphyn contemporary still life painters, and so many more.
Sadly, you are not allowed to take photographs inside but there were many artists represented from around Europe with small table top sculptures to admire scattered around the Music Room; Mark Coreth who spent his childhood in Kenya was represented by his big cat sculptures, Peirre-Auguste Renoir, Jacob Epstein, and others.
The weather was all that we could have wished for on a May morning and we were all tempted out into the fabulous gardens to admire the colours of the many rhododendrons and heathers which were in full flower.
There were fascinating paths leading off into formal gardens or through gates into the wilder area with much larger sculptures popping up in unexpected places to surprise you such as Helen Denerley's 'Wolf Pack' just outside the meeting room on the lawn.
We are all looking forward to a repeat visit next year and encourage all of you who have not had the pleasure of experiencing Champs Hill to join us then.
---
Wednesday 20th June 2018 – Visit
VISIT TO MOTTISFONT HOUSE AND WINCHESTER CATHEDRAL – including guided tour of Cathedral
VISIT PICTURES – MOTTISFONT HOUSE:
VISIT PICTURES – WINCHESTER:
Memorial to Jane Austen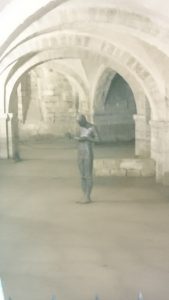 Crypt with Sound II sculpture from Antony Gormley made from lead out of a plaster cast of the artist's own body
Tournai Font – A polished stone font brought to Winchester in the 12th century and has been in use ever since. Covered in carvings of the miracles of St. Nicholas
Medieval Tiles
Bishop Gardiner
---
Thursday 26th July 2018 – Visit
VISIT TO WATTS GALLERY AND ARTISTS VILLAGE – including walking tour of the village, pottery building, Watts Chapel, Limnerslease & studio.
Visit the restored Watts gallery and take a guided tour of the Arts and Craft architecture of the Artists Village including the Chapel.

Engage with the history at Watts Studios, explore the permanent collection of Victorian paintings and sculpture in Watts Gallery; visit the stunning De Morgan Collection and Watts Chapel – a Grade I listed Arts & Crafts building.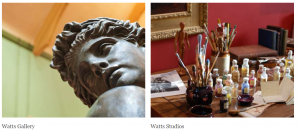 Explore the vernacular and Arts & Crafts architecture of the Artists' Village including an exclusive visit to the De Morgan Kiln, now in the grounds of a private property.

---